At Fucine di Ossana in Val di Sole
"Locanda De Fusine"
At Ossana in Val di Sole
the restaurant is open to hotel guests but also to outsiders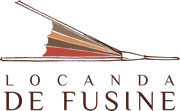 Giovanni Santoni, the house Chef, by means of his dishes conveys his concept of belonging to the territory of Trentino. He is very proud of being "Solandro" (so the inhabitants of the Val di Sole are called) and particularly Trentino..
He's always looking for seasonal products, preferably coming from Trentino and from the rest of Italy. He's particularly careful about biologic products and fresh vegetables that can be found in the buffet for both lunch and dinner.
 The cuisine is fine and varied and for those people with special dietary requirements the Chef can also proposes a vegetarian or gluten-free menù.
Every menu is accompanied by a refined choice of wines from Trentino and the rest of Italy, suggested and served by the family Maitre, Luigi in his kind and nice way without losing sight of his professionality acquired over many years of educational and professional experience.
Hence we start in the morning with a good and healthy breakfast buffet, bread, jams and cakes are homemade. For dinner will be a menu created for the hotel guests, while for the lunch the restaurant is always open and offers dishes of the day or a la carte menù.
We also organize tasty grilled outdoors in our garden and picnic snaks during afternoon walks, that are generally very appreciated by our guests.
CATERING SERVICE
Another passion of Santoni Family is Catering service (primarily Val di Sole).
Passion for cooking and for events, intended as a friendly moments, drove us to set up this project of catering services for both small and large events. You will have an exclusive and high level service for parties, anniversaries, weddings, meetings and corporate events, banquets and potlucks and interesting proposals also for sporting or folkloric events, gatherings, festivals and shows. For any request, fill in the form or call us directly.
Our Service Catering
A personalized and flexible catering service that puts our experience and professionalism at your service.